Welcome to ASE Packaging!
ASE Packaging Corporation has been in the packaging industry for over 50 years. Using this experience, we help our customers meet all their packaging needs…and more!
We supply flexible rollstock films and pouches as well as offering free services such as packaging consultation, art concept/design/layout, and other valuable support services. Our customers rely on us to be their comprehensive packaging consultants.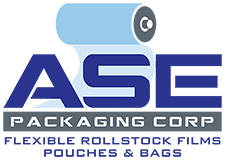 Ready to talk with us about your flexible packaging needs?