ASE Packaging Corp Printing Capabilities
ASE Packaging Corporation's plant has the newest and highest quality Japanese manufacturing equipment. Having the equipment listed below allows us to produce the highest quality printed rollstock films and bags in the market:
FUJI 8 Color Rotogravure Printing Press
ALTIMA 10 Color Rotogravure Printing Press
Three Wide Web Slitting Machines
Three Wide Web Laminating Machines
Three High Speed Camera Quality Check Machines

ASE Packaging Corp Cast Coextrusion Capabilities
Inside our state-of-the-art Cast Coextrusion plant, no human touches the film from the extrusion process all the way to palletizing. This takes the human error element out and provides a complete automation process. This allows us to produce the highest quality coextrusion forming and non-forming films at the lowest cost. At our plant, we have the following brand new technology:
Two 11 Layer Cast Coextrusion Lines
Two 5 Layer Cast Coextrusion Lines
Nine Wide Web Slitters
One Fully Automated Warehouse Where We Stock 900+ Master Rolls of 13+ Ft. Wide
Many Robots and Custom Designed Handling Machines

ASE Packaging Corp Bags & Pouches Capabilities
With our 15 Totani pouch making machines, ASE can manufacture the highest quality bags and pouches in very low minimums. The following are the different types of bags and pouches we can make:
Flat 3 Side Seal Bags and Pouches
Flat 3 Side Seal Zippered Pouches with Header and Hang Hole For Beef Jerky
Side Gusseted Pouches
BOX Style Stand-Up Zippered Pouches
Regular Bottom Gusset Stand-Up Zippered Pouches
U-Shaped Tooling Bottom Gusset Stand-Up Zippered Pouches
Fin or Lap Rear Sealed Bags
Any bag style, we can make it!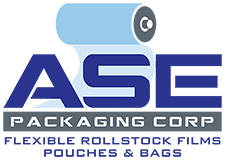 Want to know more about our capabilities?

CONTACT US TODAY TO FIND OUT JUST WHAT ASE IS CAPABLE OF!