About ASE Packaging Corporation
ASE Packaging Corp. was founded by Sam East in 1990 to act in the best interest of his customers. Sam's experience reaches back to the very roots of vacuum packaging in America. In 1972, Bob Woods (The Wood in Curwood Corp) hired Sam as the first mechanical trainee in their national service department. Noel Ahlness (Sam's Father-in-Law), Fred Keonig, and Charles Hommer were Sam's teachers. Together these three men had over 100 years worth of vacuum packaging experience when Sam was lucky enough to become their trainee.
Over the years, Sam went from packaging machine serviceman to salesman, building a long-term customer relationship on the same high integrity and workmanship that he learned from his predecessors. Experience tells us that no single packaging company can meet the needs of every packaging application. In response, Sam stopped working for the large packaging film manufacturers and in 1990 he started ASE Packaging Corporation. Its purpose is to bring together the customer's application with a material that is tailored to it, rather than try to get the customer to change the application to meet a specific manufacturer's stock line of products.

As the company continued to grow, Sam also mentored now a 3rd generation into the business. Ethan East, Sam's son, was also first introduced how to work on these packaging machines when he was in high school and still continues to help customers with technical assistance. In 2004 Ethan fully joined the ASE team with a BS degree in business and a "hard knocks" doctorate in packaging materials and machinery.
ASE continues to grow and add more technology (printing presses, extrusion lines, etc.) as the technology continues to evolve over the years. To this day, ASE still services some of the same customers that Sam serviced in the late 70s. With our past being filled with experience and success, ASE Packaging continues to put the customer first as we build on the traditions handed down and carry us forward into the future.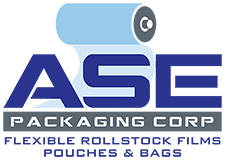 Want to know more about ASE?
REACH OUT TO US AND WE'LL FILL YOU IN ON EVERYTHING ASE HAS TO OFFER!